THREE PLAYER CHESS SETS
(4)
Complete wooden folding chess sets which includes the pieces and the board. This kind of a wooden chess set is probably the most original on the list. It features a wooden chess board in the shape of a hexagon.
Bored with standard chess? Want to try new challenges? Stand against two armies simultaneously, make allies and roar into the battle!
Here we present you a variation of chess which includes a third player. This version was invented by an Italian F.Marinelli in 1772 and is a very interesting alternative to standard chess. The rules are added to each set.
Three player chess sets are a chess variant that are–as the name suggests–designed to allow 3 players rather than the standard set of 2 players. Three player chess has become more popular in recent years as three player chess set options become more accessible to the public. The set is made of high quality, high contrast wood in red, white, and black. The set is available in 3 different sizes to accommodate any space or budget constraints. We recommend the large size for maximum effect and spaciousness. Multiply your fun with an unique three player chess set!
How to Play 3 Player Chess
Obviously, for 3 player chess to work, a few modifications need to be made to the original set of rules. So every 3 way chess set includes a complete instructional booklet that makes the game easy to learn and cover a number of unique scenarios.That booklet will be your ultimate resource when you purchase this three player chess set, but we'll just give you a brief overview of the game so you have an idea of what you're getting yourselves into!
Basically, the game is played as similarly to regular chess as possible with three people. Each player takes turns making their moves, beginning with White and proceeding around the 3 player chess board. During set up, the White army is set up between the Red and the Black armies. Each army should be placed along an edge labeled with letters rather than numbers.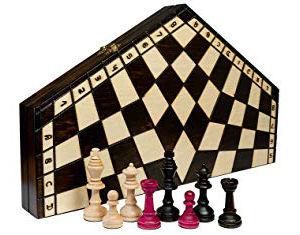 It can be confusing the first time you're faced with a 3 way chess board, but the labels on the sides of the board are there to help guide you.
There are some sticky situations that you may find yourself in that are unique problems of the 3 way chess set. For example, it can be more difficult to determine the outcome of certain checkmate scenarios with a third player present whose moves may change the situation on the board significantly. To deal with this problem, we recommend playing the game out past the point that you normally would in a two-player match. A small modification to play the game out until the point when a King piece is actually captured and removed from the board will make it clearer who the winner was.
Moving Around the 3 Player Chess Board
On a 3 way chess board, knowing how and where to move your pieces can be a little bit tricky at first. It may be helpful that all the principles of movement, like the ways in which each piece is able to move, are exactly the same in 3 player chess as they are in traditional chess. Nothing changes there. However, in a game with 3 players, the need arises for pieces to be able to move effectively not only forward but also to the left and right sides of the board. This movement is accomplished not through any additional movement rules given to the pieces, but actually in the shape of the spaces on the board.
All standard variations of 3-player chess involve using a hexagonal board that allows for each of the 3 players to control a standard amount of chess pieces, including king, queen, knights, rooks, and so on.
Our offer comprises one model in three different sizes. The hexagonal board is burned and the pieces are made of hornbeam and beech wood. The pieces are stored inside the board divided by colour.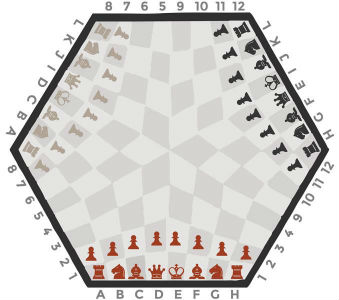 In the center of the 3 way chess board, there is a cluster of 6 "squares" which are more like diamonds in shape. These size spaces form a rosette that allows pieces to change direction easily and head toward their desired section of the board using only their normal movements. The way that most of the board's rows of spaces are slightly curved or bent also facilitates this movement. It may be hard to imagine, but once you start actually playing on the board, you'll see that it all works out!
The King piece movement
The Queen piece movement
The Knight piece movement
The Bishop piece movement
The Rook piece movement
The Pawn piece movement
Three player chess sets also make an excellent gifts for chess lovers, whether they have played three player chess before or are just now becoming interested in trying out this exciting variant that is sure to shake up their chess game.
Rated 4.80 out of 5

€

39.00 more information

The Small 3 - Player Chess Set is the smallest size chess set for 3 players in our chess sets selection.  The folding case is in standard (brown) color. The chess pieces are made from hornbeam and beech wood. A leaflet with the rules of the game has been added to each set. It has three compartments finished with felt lining for the chess pieces storage inside. Decorative metal clasps keep the board securely locked after play. Made compact and portable so you can play anywhere. Level up your game with this unique chess set for 3 players. TOTAL WEIGHT: 0,5 kg HEIGHT OF THE KING: 5,0 cm COLOUR: brown CASE/BOARD DIMENSIONS: 16 x 28 x 4,0 cm INSERT TRAY: no MATERIALS USED FOR CHESS PIECES: hornbeam and beech MATERIALS USED FOR CHESS CASE/BOARD: beech and birch

Add to basket